Just joined today. I'm relatively new to BMWs and to motorcycles in general. I'll be 49 in September and only started
riding 9 years ago. My first motorcycle was a 2003 Triumph Bonneville and shortly thereafter, I purchased a 1974
Kawasaki KZ 400 from a neighbor to learn how to work on motorcycles, without destroying my working bike. I'm still in
the process of restoring it, but in doing so, I sparked the interest of a coworker who used to buy and restore cars. He
hurt his back on his last car project, a 1969 Camero SS and stopped working on cars shortly after that. After I started
showing pictures to him of my work in progress, and I guess I inspired him to work on smaller, more manageable projects
that he wouldn't have to crawl under anymore.
He bought the bike and spent the last 6 years restoring it, rebuilt the engine, new paint and it has less than 1,000 miles
on the new motor. Like many of his previous projects, he enjoyed the trouble shooting process and fixing more than
riding it. To use his words, "it's too nice for me". So, he agreed to sell it to me, at a very reasonable price, after he
retired. So, a big thanks to my former coworker Curt, for entrusting me to this beautiful piece of history.
1966 R69S just after restoration: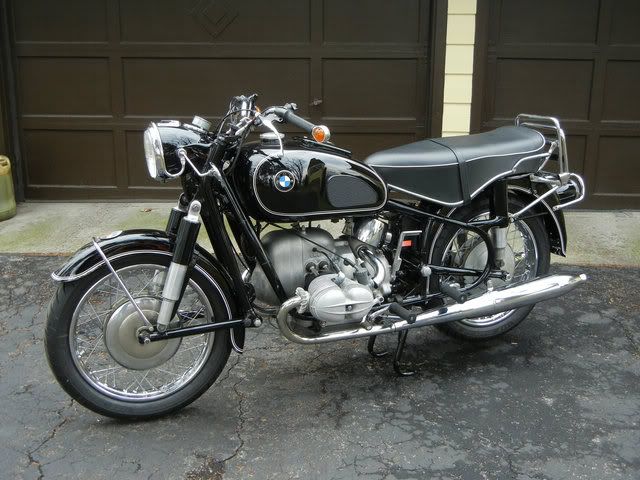 After I picked it up a few weeks ago: