Hello All,
I am trying to rewire My R51/3 and am running into a problem. First off, I am using the correct manual which has this Hi Res wiring Diagram:
This is basically a higher res image off Duane's site of this: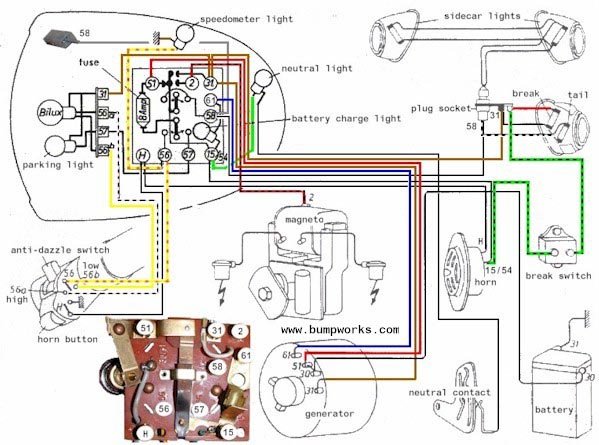 Here is my board in my new bucket:
Now everything is connected, except my two questions.
What is terminal 57 and if what I pointed too is it, like in Duane's image suggests, how do you connect to that? Terminal 56 has a wire connected to the underside of the board that is going to the dimmer/horn switch, is there supposed to be a wire connected to the not labeled terminal in a similar fashion?
Also, What is that light grey wire that looks to be soldered to 30/51 and what does it attach too?
Thanks in advanced...
Shane
Mon, 10/08/2012 - 06:57
#1
Shane - Is this a replacement
Shane -
Is this a replacement board? Maybe the board is somewhat generic, as I thought a lot of boards during this time looked similar.
As for #57, can you check continuity between the spot on the board and terminal 57 on the parking light? That would confirm what 57 is on the board.
Mon, 10/08/2012 - 18:55
#3
Interesting the way those
Interesting the way those spade connectors were soldered to the slotted screws! I haven't been able to find anything that has that gray wire in it. I have the Doug Rinckes book (version 2) but it's only for the R25-on singles and /2 singles. However, there's some similarity between the R25/2 or /3 wiring diagrams as the R51/3 that you show...probably makes sense as they were from the same period.
Darryl and others have R51/x models...hopefully they'll come along and provide better guidance. Sorry....