First of all, hello, first post here. I'm a long time motorcyclist, engineer, mechanic. Joined here to pick the brains of Those That Know Much More Than I when it comes to these great "old" machines.
I'm sure it's a common theme, pick up an old bike after a quick look, only to discover what you thought was mostly there... isn't!
So, I picked up the subject /5 recently, and set to tearing it down to the frame. It came with a 2-into-1 cheapo header/muffler, a subframe wire harness that had been cut and spliced with solderless connectors (easier to take the subframe off?), a short front fender, upside down handlebars... you get the picture. I saw a diamond in the rough, and a classic that needed rescue! (It's a mental condition, as you know).
Still trying to decide whether there's enough to restore it back to stock or if it's worthy only to "cafe to death". (I'm leaning towards the former which is more suited to the grey on my face).
Anyway, it has this tank;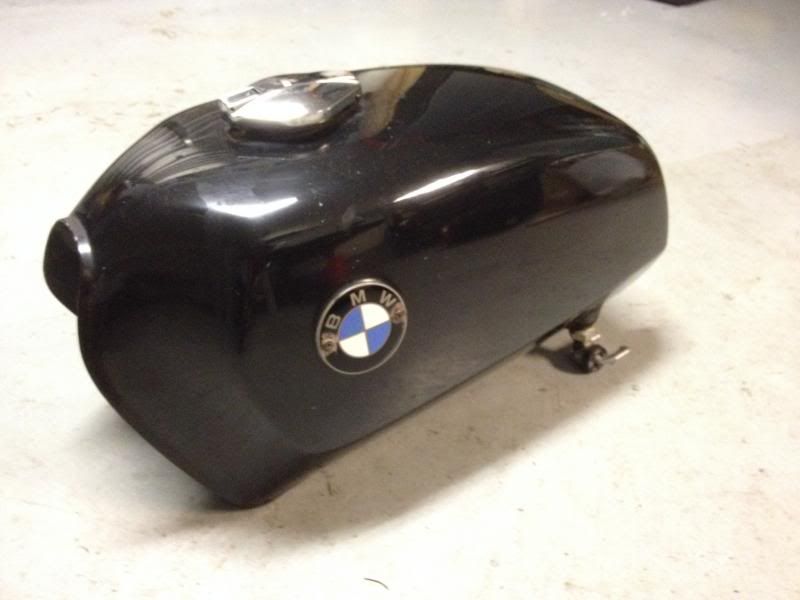 I've been unable to identify the vintage of this tank. The roundels are screwed on, which I read somewhere here I think, that was only an early detail? Was there a small tank shaped like a toaster without the panels for this year, or any other? The predominant tank seems to be the large one with knee pads, "hump tank" I've seen it called. Any enlightenment would be appreciated.
Also, anyone in the Seattle area have a powder coater recommendation?
Thanks, in advance, for any help.
Jamie
Wed, 12/18/2013 - 08:45
#1
It's a pre-/6 small tank
It's a pre-/6 small tank (before 1974), because the /6 tanks did not provide for screwed-on roundels. The larger tanks you're referring to (6.5 gallons) are usually referred to as "touring tanks". I don't think the "toaster" small tanks started until '71, but I'll defer to those with better /5 knowledge. I'd guess that it's the OE 1970 tank---or at least it's a replacement tank that's appropriate for the bike's year.
Konrad
Wed, 12/18/2013 - 09:09
#2
Konrad's probably on to
Konrad's probably on to something. If you click BMW Models on the left and search for R75/5, it says that the tanks were 24L but from 1971, the 17L was offered. That looks more like the smaller tank of the time.
Thu, 12/19/2013 - 10:00
#4
I think I recall seeing some
I think I recall seeing some bikes with /5 small tanks that were not pin-striped, but I may've erroneously assumed that they were incomplete re-paints. The toasters were not pin-striped, but the later (/6) small tanks were. I personally prefer a well-done pin-striping job, but it might not be "correct" for this early /5 bike. If you're likely to sell it shortly, "correct" may be more important for sales purposes to purists. Sorry that I don't have the "correct" answer for you, but someone will probably happen along with it.
Konrad
Thu, 12/19/2013 - 11:36
#5
I owned a '70 R60/5. The
I owned a '70 R60/5. The tank was pinstriped and I don't recall ever seeing a /5 factory paint job that was not.
If you Google "bmw r60/5" and take a look at the images it'll give you a good idea of what the factory pinstriping looked like
Ira Agins
Santa Fe, NM
Sun, 12/22/2013 - 21:56
#6
variations
It is my understanding that the original toaster tank bikes had no pinstripes on the small, toaster tank. I am not sure IF the fenders had pinstripes.....I was only 13 at the time.
The later toaster tanks...(1973 models)did have the pinstripes, from the factory.
Please be aware that there was much mix amd match by the dealers.....Butler and Smith. Lots of left over tanks, etc....so who knows.
Again, I do not know about the pinstripes on the fenders.
On a similar note, ALL of the headlight assemblies were BLACK, for the entire run of the /5 series.....at least from the factory.
Have a great Christmas and New Year!
spo
Edit> Maybe the fleet, government contract, bikes had a different (polezi, etc?) color headlight assembly.